Art
November 2015
Gallery chronicle
by James Panero
"Tempos: Selected Works by Elizabeth Gourlay, 2013-2015 at Fox Gallery NYC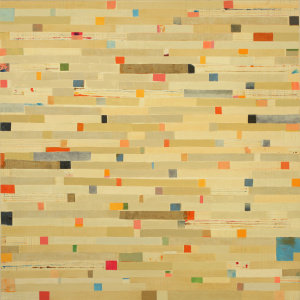 Elizabeth Gourlay,  tarang (2015), graphite, flashe and collage on canvas, 48 x 48″
At Fox Gallery NYC
"Tempos: Selected Works by Elizabeth Gourlay, 2013–2015" at Fox Gallery NYC is another exhibition that sees the grid bringing structure to paint.3 I wrote about Fox Gallery in this space last January to praise the patterned paintings of Claire Seidl and Kim Uchiyama. I also wanted to draw attention to the pleasures of seeing a gallery exhibition in a domestic space—here, in the apartment of a gorgeous (and recently cleaned) terracotta pre-war building by Blum & Blum. Just last month Gourlay appeared in the flat files of the exhibition at Odetta Gallery on "seeing sound." For Gourlay the painterly sound is rhythmic. She mutes her colors of melody to emphasize the syncopation of her forms. In her large square canvases, often named after instruments, she she uses collage to layer horizontal strips of paper that have been tinted along their edges, then adds additional squares of paint like regular punctuations. In other examples she stacks her square blocks of color. In others she plucks an edge into a triangle. The overall results are quiet and harmonic, like an ensemble of world music in otherworldly form, here arranged in sublime surroundings.
For full article see: http://www.newcriterion.com/articleprint.cfm/Gallery-chronicle-8269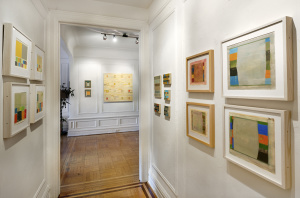 Exhibition view Main Hallway